THE CHARITY CUP – WEDNESDAY 13TH SEPTEMBER 2017
The "Masita Teamwear" Charity Cup
The Masita Teamwear Charity Cup was a great night for all.  As always it's the chance for the "minnows" (1stDiv) to embarrass the "Sharks" (Premiership & Championship) and that's what happened in round 1A with SFI, Goal Diggers and Travellers making it through to Round 2.
Subbuteo were on fire scoring 9 goals in 20 minutes! (Is that a Charity Cup record?)
In the round 1B the 1st Div were not so lucky and it was the turn of The Special Ones and Old Skool banging in 6 goals.  One of the highlights was under-dogs Highgrove pulling off a 4 – 1 win over CK9!
In Round 2 we saw 1st Div under-dogs Sperm Whales, Travellers and Flatliners going through to round 3.
Premier winners The Special Ones and Champs winners Catalan also went through meeting in Round 3.
The shock result of Round 3 was The Travellers knocking out Premier team Well'ard, whereas The Special ones, just scraped through with half a goal difference after handicap loading.
The Semi Finals saw The Travellers getting spanked 8-0 by The Special Ones…with the shock result of 1st Div Sperm Whales knocking out Catalan (who went through as "Best Losers" from Round 3).
The Grand Finals was "Groundhog day" for The Special Ones with the Sperm Whales spanked 8-0.
The night finished off with the Charity Cup Presentation and $500 Masita Teamwear voucher being presented to Steffen Binke, Manager of The Special Ones and a 6 pack of Crownies went to the valiant Sperm Whales.
The Charity Cup Winners also receive a $300 Cheque, to donate to a Charity of their Choice, from the Supa Oldies.
RUNNERS UP – THE SPERM WHALES  (1ST DIVISION)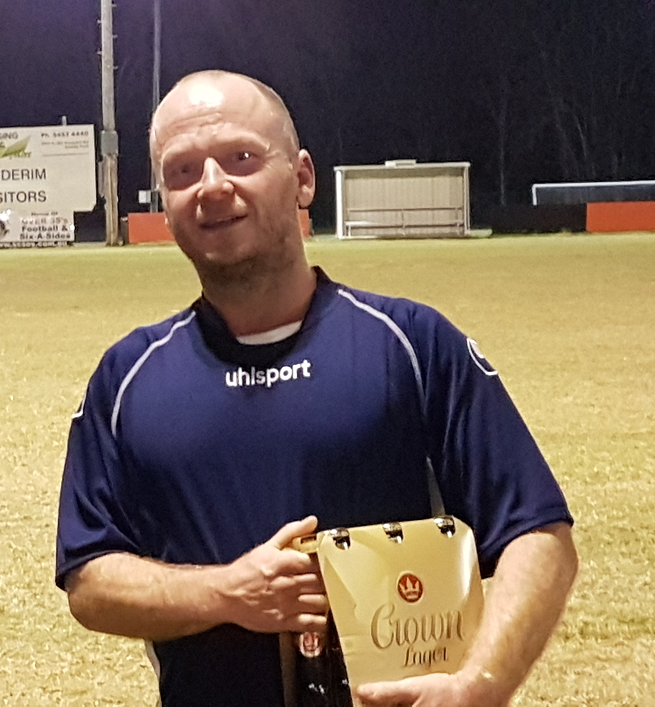 CHARITY CUP WINNERS – THE SPECIAL ONES    (PREMIER LEAGUE)